Downtown Frederick in April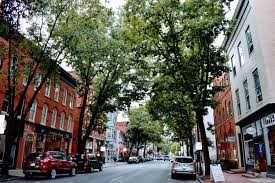 April is the month of spring's arrival and events are being held in downtown cites such as Frederick, Maryland. It's a fabulous place where everyone in Frederick comes together to get involved in the community. All generations of life come to celebrate the month of April, which can bring new beginnings for some people. The events being held in downtown Frederick are "April's First Saturday", " Frederick Children's Festival", "Bring A Broom On Saturday", "Downtown Frederick Easter Egg Hunt", "Sykesville Spring Ladies Night", and "April Blooms Alley Artisan Market". Downtown Frederick is vibrant with its historical roots and bursting with entertainment in every corner. It's wide range of festivities ranging from big to small events. It's the place to be if you need something to do or just to explore Frederick, Maryland.
So I went to investigate these festive events to see if they're cheerful during the month of April. Much to my surprise I was proved wrong these events were the definition of what Frederick, Maryland is really about. Maryland is about the closeness and feeling of family in these communities. As I went to investigate these events being held in downtown Frederick there were crowds of people gathered around celebrating the holiday Easter and the various other different cultures were there in Maryland.
I noticed partially during the events there were mostly families with one or more children and newlywed couples checking out the shops in Downtown. A lot of people were gearing up for the change of weather this month such as wearing less clothes and open toe shoes. At first I expected there to be less people than I expected but it was quite the opposite. There were actually lots of people. The shops and small businesses were packed with people. To get a better
understanding of how close and friendly Frederick, Maryland is, I asked some questions to some people. Majority of the people said either more than a year or just recently moved to Maryland, depending on their living and financial situations. The differences between the answers were that some were military and some weren't. The next question I asked was "How long have you lived in Frederick?" "I moved here from Georgia to now Maryland which has been 2 years so far".
I am a military child myself so I understand the newest and the struggle to fit into a new place. Downtown Frederick hosts many events each month but each time it attracts someone new or the same people. I noticed that most of the younger generation that have gone to the downtown events has gone more than two times. But the older generation, such as the elderly hasn't been to the events many times because they're getting older. One elderly couple said "In
my whole lifetime I have had many experiences to do, but I'm getting older developing bad knees". Maryland is a very diverse state with different religions and backgrounds in the same melting pot. Mixed together to form one state.
Another question I asked people was: "What is your favorite thing about Frederick?" A lot of the adults with families said "How diverse the schools and the community is, cause they wanted to surround their children with change and
diversity". Others said, "How they like the weather, cause they can experience all four seasons in the same place". They all agreed with one thing: Frederick, Maryland is home and there's a place for everyone who loves the feeling of being a part of a family.
The last question I asked people was: "Do you have celebrations or traditions do you do in the month of April, if so what?" An average number of people said the classic holiday celebration was Easter. I know for me I'm celebrating Easter and my brother's birthday this month on the same day. Others said Earth Day, Orthodox Easter, Tax Day, birthdays, and Eid al-Fitr. A small majority of people said no traditions or celebrations were happening. In conclusion I found out that downtown and Frederick, Maryland in general is a great place full with all around good
people who have hearts full of gold. A place where you can call it your forever home.