As the current school year started, students have not only welcomed a new way of learning, but a new administration staff as well. We sat down with our new principal Mrs. Kibler, as well as our two new assistant principals Ms. Baker and Mr. Trotman. Through a series of virtual calls on Google Meets, we learned more about their background in the profession, interests and character. Each administrator was asked a total of six questions, where half were about their professional and half were about their personal lives. First, we talked to Ms. Lindsey Baker.
Ms. Baker
Background: Ms. Baker has 16 years of experience under her belt. She started out as a math teacher at Crestwood Middle and continued that role at Frederick High. She then made the switch to become an HSA specialist while remaining at Frederick. Prior to coming to TJ she was an Assistant  Principal at Oakdale High School.
Favorite Things: Her favorite part of her job is student interactions. Whenever she gets a chance  to leave her office she will go sit in classes and interact with students.
Words of Advice:  Stemming from the Ferris Bueller quote, "Life moves pretty fast. If you don't stop and look around once in a while, you could miss it." Ms. Baker believes that it is important to live in the moment. She would also like to remind students to keep persevering this school year.
Next, we both sat down with our New assistant principal Mr. Kenneth Trotman.  This will be his first year in Frederick County and he will serve students with last names starting with S through Z.
Mr. Trotman 
Background: Before coming to TJ, Mr. Trotman has had many positions all over the world. He first taught in El Salvador and Cambodia which introduced him to becoming a school administrator. After traveling as an educator he went back to school and became a school administrator in Fairfax County Virginia.
Favorite Things: In his past high school years, Mr.Trotman was fairly active in his school's community. He participated in sports, marching band, not to mention being nominated on homecoming court and as well as prom royalty. Though today as he takes the role of an assistant principal at TJ High, his favorite part of it all would have to be having a positive influence on students and in the school's community as a whole.
Words of Advice: Mr. Trotman simply insists that student's take care of themselves above all other priorities. In the time being it's important to be considerate of others living situations you can never know enough about what one might be going through physically or mentally. He wants students to be aware that mental illness is real and plays a vital role in society today. With that being said Mr.Trotman encourages students to reach out for help despite if their scenario is school-related or not.
Last but not least we interviewed our new Principal, Mrs. Kibler. Although she is absolutely torn by the new environment we are currently in, that strips away most of her opportunities to get to know students, she is excited to let TJ students learn more about her personally.
Mrs. Kibler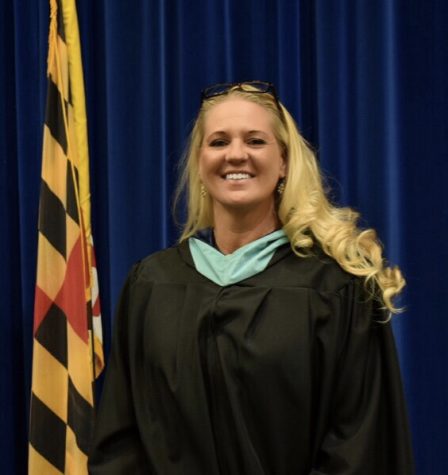 Background: Mrs. Kibler was a former D1 basketball player which actually gave her a full ride in college. From there she decided to pursue teaching and has been doing so for over 20 years. She has many experiences from special education to math to assistant principal and even being a part of the admin team at Hood College. Now thankfully Mrs. Kibler has never lost sight of her athletic talents and has routed that part of her into coaching basketball and golf at multiple schools. Though for the last seven years she has served as principal to Walkersville High School she finds this transition to be a great opportunity to bring her leadership and new ideas to TJ. She know is well aware it will be a challenge but it is nothing she cannot handle.
Favorite Things: As an educator Mrs. Kibler enjoys the impact she has on students whether it be big or little it reminds her of her purpose for working in the education field. Though outside of school she has always been extremely fit and one with the outdoors. Mrs. Kibler especially favors the beach, water sports, and fishing. Regardless of being athletic she also finds herself to be artistic by connecting with her inner creativity with interior decorating and painting.
Words of Advice: Ms. Kibler absolutely could not hold back on all of which she thinks students should advise themselves with, therefore she's made multiple statements she would like for us to share. The first being "don't let the environment we're in be a reason to not be successful." Though it is unfortunate we are not physically in school just yet that should not be a set back on one's rate of success. Now more generalized advice that applies at all times from Mrs.Kibler would be to "never let anyone tell you that you're not capable of something" and to "take care of the people that take care of you." She finds it to make life easier when you channel haters to be your motivation by proving them wrong with your achievements. As for taking care of those who care for you it's a reminder to be grateful and appreciative of those who radiate growth and positivity in your life whereas those people who don't simply stop wasting your energy on them.